Press Releases & Publications
Tri-Band Amplifier [2198] [ April 28, 2021 ]
Download as PDF
Ultra Broadband RF Amplifier in a 3U Chassis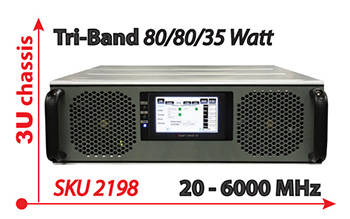 Empower RF Model 2198 is a solid state tri-band amplifier in a single 3U chassis ideal for general purpose lab and production line test applications. With user selectable modulation and power output modes this amplifier integrates easily into any test system and simplifies test setups with selectable AGC and ALC modes. The amplifier is ready to go out of the box with its built in browser GUI so there's no software to install for PC or Lan control.
Whether you're benchtop testing in the lab or using an integrated equipment rack with automated test functions on the production floor, your productivity improves with feature rich SSPA's from Empower RF Systems.
The 2198 is a popular choice for semiconductor and other microwave component testing applications, CW or pulsed. The ultra wide band 2198 covers 20MHz to 6000MHz in a three band compact configuration. RF is routed to the single output connector via internal RF switching to the selected band. Band selection done through the front panel LCD, peer or Lan connected PC via browser GUI (no software to install) or via SCPI ASCII commands over Ethernet or serial port.
The embedded firmware/software of these amplifiers make a truly configurable amplifier with modes and features that include:
Selectable Output Power Control
Automatic Gain Control (AGC)
Automatic Level Control (ALC)
Manual Gain Control (MGC)
Selectable Operating Modes
CW, FM, AM, CE
Digital Modulation
Multi-carrier / Multitone
Pulse Modulation
Gated Pulse
Built in Peak Detectors
Input and Output Detectors
Selectable Peak and RMS
PUBLISHED BY