Ultra Broadband RF Amplifier in a 3U Chassis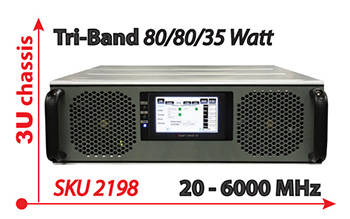 Empower RF Model 2198 is a solid state tri-band amplifier in a single 3U chassis ideal for general purpose lab and production line test applications. With user selectable modulation and power output modes this amplifier integrates easily into any test system and simplifies test setups with selectable AGC and ALC modes. The amplifier is ready to go out of the box with its built in browser GUI so there's no software to install for PC or Lan control.
Whether you're benchtop testing in the lab or using an integrated equipment rack with automated test functions on the production floor, your productivity improves with feature rich SSPA's from Empower RF Systems.
April 28, 2021